The Cadastral Consulting Bookstore
We have several cadastral–related books and resources that are often not available anywhere else. Size of order, speed of delivery, and delivery location will determine shipping costs. To order, call 1–800–666–1320 or send us an e-mail.
We gladly accept cash, checks, or purchase orders. We are also able to accept most major credit cards (Visa, Mastercard, and Discover).

---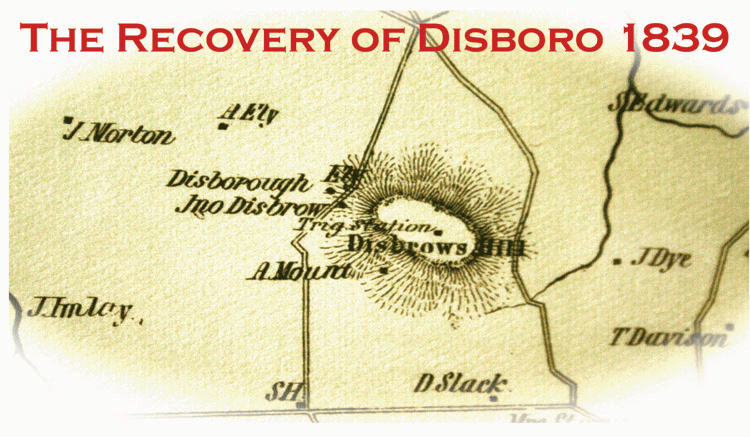 Remember the recent 200th anniversary of the US Coast and Geodetic Survey with a copy of the 14.5 minute documentary film about the first triangulation control survey of our country's coast and the recovery of one of its original markers fifty years after it had been thought lost. "The Recovery of Disboro 1839" (written and produced by Richard D. Smith, Wind & Whalebone Media) is now available in DVD format for $20, including shipping. Suitable for use during Career Days, Surveyors' Week, and other public presentations, it covers the history of the first survey of our nation's coastline and of the recovery of one of its original markers. Articles about the original survey, begun in 1807, and the work of a team of New Jersey surveyors in 1982 to recover one of its monuments on Disboro Hill, are available on our Links page.
---
Books for the Professional
"Landslides and Earthquake Displacement of Land Survey Monuments and Land Lines" by C. Albert White. ($25 plus shipping) — In his 1998 report, Mr. White uses case studies for sudden landslides, creeping shifts, and earthquake shifts to explain what a cadastral surveyor should be aware of when survey lines and/or monuments have been displaced.
"Specifications for Descriptions of Tracts of Land for Use in Land Orders and Proclamations" ($10 plus shipping) — This is a 28–page soft cover reprint of the 1979 BLM specifications, including terminology, abbreviations, and examples.
"Mineral Survey Procedures Guide" ($25 plus shipping) — Here is the Department of the Interior's 1980 instruction book for United States Mineral Surveyors, complete with maps, diagrams, and a summary of relevant laws.
"Professional Surveyors and Real Property Descriptions: Composition, Construction, and Comprehension" by Stephen V. Estopinal and Wendy Lathrop. An integration of the historic and legal background of real property interests with fundamental concepts of the surveying profession, providing the basics for both properly comprehending older descriptions and competently constructing complete and modern real property descriptions that foster better communication. Available through John Wiley & Sons, Inc.
"Ethics for the Professional Surveyor, A Collection of Thoughts" by Dennis Mouland. The second edition of this book on ethical behavior for our profession is now available directly through Amazon, both in paperback and on Kindle.

History of Surveying
"A History of the Rectangular Survey System" by C. Albert White. ($80 plus shipping) — A binder reprint of the best history book ever written about the U.S. cadastral system. The appendices reprint portions of old plats, manuals, and other correspondence. This is a must–have resource for every surveying office.
"A History of the Rectangular Survey System" — Searchable PDF on CD. ($29 each, includes priority mail shipping)

"Initial Points of the Rectangular Survey System" by C. Albert White. ($90 plus shipping) — Al White's second book, and as great as his first! This one has all the history, pictures, and facts about every initial point used in the PLSS. This hard–bound book is fascinating and educational.

"Surveys and Surveyors of the Public Domain" by Lola Cazier. ($55 plus shipping) — This book is just plain fun. An accurate look at the historical and personal side of original cadastral surveys, as researched by Lola Cazier. Has dozens of pictures and many great stories.



Manuals of Instruction for Surveys of the Public Lands
"1973 BLM Manual of Instructions" ($65 plus shipping) — The official PLSS book until the 2009 edition was published. If you survey in a PLSS state, you should own a copy of this Manual. These are soft cover reprints of the Manual – hard covers are no longer published.
"1973 BLM Manual of Instructions" — Searchable PDF on CD ($29 each, includes priority mail shipping)

"BLM 1947 Manual of Instructions for the Survey of the Public Lands of the United States" ($49, includes shipping) — The CD contains a searchable PDF of the 630–page manual, as well as both maps that were folded into the back cover of the original volume – one in full color.

"1855 GLO Manual of Instructions" ($20 plus shipping) — A reprint of the original Manual from the General Land Office covering principles and practices of the PLSS. Fascinating historical perspective! (Note: Field notes are not included due to difficulty in obtaining quality reproduction. Call for information.)



Legal Topics for Surveyors
"Finding the Law" ($55 plus shipping) – A valuable self-study guide on how to conduct legal research yourself. Shows how to read case citations, research by subject and "key words", and even includes administrative sources, like the IBLA Decisions.

"BLM Casebook, 1975" ($85 plus shipping) — A 65% size of the original casebook, this has detailed case studies on dozens of BLM projects, with subjects covering just about anything you can imagine. A resource second only to the Manual itself!
"BLM Casebook, 1975" — The entire Casebook in TIF files on CD ($30 includes priority mail shipping)

"IBLA Decisions" ($80 plus shipping) — A collection (in 2 volumes) of the Interior Board of Land Appeals case decisions relevant to surveying (through 1981). This provides a great source for study and research on how the BLM's administrative law judges interpret cadastral issues.

"Cadastral Survey Legal Reference Guide" ($75 plus shipping) — A set of court case references, grouped by topic, for easy identification of cadastral survey related decisions. Each case has a brief synopsis of the issue at hand. General discussions of concepts are also included with case citations. Provides good references for attorneys who want to know more about surveying.



---
Floodplain Mapping
The National Research Council has released its report on floodplain mapping (prepared by a committee on which Wendy Lathrop served) entitled "Mapping the Zone: Improving Flood Map Accuracy". An executive summary of the report is available here and on our NFIP and Floodplain Management page as a 2.2 MB PDF. More information and full copies of the report are available through the National Research Council website.