National Flood Insurance Program and Floodplain Management Resources
---
FEMA has re-released the new Elevation Certificate. The fillable PDF has returned to letter size (rather than legal size as first issued) and Section C (measurements) has been reunited with Section D (signature). The new form expires November 30, 2018. Download the PDF form from FEMA's website. No Word version exists yet.
There are only a few changes since the version that expired in 2015.
Building Diagram 2, for structures with basements, has been split into 2A and 2B to reflect different kinds of access to that entirely subgrade portion of the structure.
When reporting decimal degrees for latitude and longitude, five decimal places are now required instead of four.
On January 30, 2015, President Obama issued Executive Order 13690 to require federal construction and federally funded construction to be elevated beyond the 1% annual chance event water surface elevation (Base Flood Elevation). In recognition of the increasing flood damages to property in recent years, the Executive Order requires elevation of the lowest floors of these structures to be at or above the water surface elevation of the 0.2% annual chance event (sometimes referred to as the 500 year flood event). Regulations within 44 CFR Part 60 are not affected at present.
Executive Order - http://www.whitehouse.gov/the-press-office/2015/01/30/executive-order-establishing-federal-flood-risk-management-standard-and-
Fact Sheet - http://www.whitehouse.gov/administration/eop/ceq/Press_Releases/January_30_2015
The Government Accountability Office (GAO) has issued a report entitled "Flood Insur ance: More Information Needed on Subsidized Properties", dated July 2013. Of interest to surveyors in the 69-page report is that the lack of information mentioned in the title of this report can in part be addressed by collection of current elevation information, with specific mention of Elevation Certificates. For a quick overview, see PDF page 2 (an introduction and summary) and PDF page 46/document page 41 (Conclusions).
The reauthorization of the National Flood Insurance Program (NFIP) occurred late, but finally happened as the Biggert Waters Act of 2012. President Obama signed HR 4348 into law on July 6, 2012, extending the program for five years and incorporating some much-needed change in premium assessment and technical approaches to floodplain mapping. The relevant 60-odd pages of the full 584-page bill is available here.
A link to an article more completely detailing the act and published in American Surveyor magazine can be downloaded from the Articles and Publications section below.
Among myriad key provisions of the bill:
Extension of the NFIP to September 30, 2017
Creation of a new Technical Mapping Advisory Council with specific charges addressing technical, functional, and economic aspecs of the NFIP
Process to recover limited technical costs associated with certain applicatons for Letters of Map Change
Requires a study of the effects of building codes in floodplains
A five-year phase-in of true actuarial rates for insurance
Phase-in of increased premiums for areas in remapped floodplains
Increased deductibles in flood loss claims
Increased penalties on lenders for non-compliance with mandatory flood coverage requirements
Allowance for private flood insurance policies as well as NFIP-issued policies
Delaying the start of actuarial rating for some flood insurance policies is the Homeowners' Flood Insurance Affordability Act of 2014. The text of that bill is available here.
---

Articles, Publications, and Presentations on the NFIP
Recorded presentations by Wendy Lathrop on National Flood Insurance Program topics:
Articles by Wendy Lathrop on National Flood Insurance Program topics:
The National Research Council has released its report (prepared by a committee on which Wendy Lathrop served) entitled "Mapping the Zone: Improving Flood Map Accuracy". An executive summary of the report is available here as a 2.2 MB PDF. More information and full copies of the report are available through the National Research Council website.

---
Floodplain Management News and Links
FEMA periodically revises forms for map change applications. Click below for links to the most current forms.

FEMA has recently redesigned its website. For the links most frequently used by surveyors, engineers, and architects (including forms and documents), the new site can be accessed here.

FEMA's Map Service Center provides historical flood maps as well as the most current versions. Letters of Map Change are available through the same pages as the currently effective maps, listed by community. Flood Insurance Study rerports, where available, are accessed through the home page tab for "Product Catalog", along with DFIRM databases and Community Status books.
FEMA's contact center for the Map Service Center (MSC) has been consolidated with the FEMA Map Assistance Center (FMAC). The phone number for MSC is 1–877–FEMA MAP (1–877–336–2627). To reflect the consolidation of the contact centers the name of the expanded FEMA Map Assistance Center is now the FEMA Map Information eXchange, or FMIX.
FEMA offers an on–line NFIP newsletter entitled "Watermark". For articles and to subscribe for email alerts when new articles are uploaded click here.
Note that FEMA no longer issues paper maps (effective October 1, 2009) beyond a single set to participating NFIP communities. All map users must now be familiar with FEMA's on–line Map Service Center for ordering and viewing digital mapping data.

FEMA offers On Line Tutorials on a variety of technical and regulatory topics.

FEMA's NFIP Policy Index provides a wealth of background information in its on–line definitions of words and phrases relating to floodplain management. Within each definition are references to NFIP requirements and regulations, as well as links to other resources.
---

Please see our classes and training on use of the Elevation Certificate and other floodplain management topics.



FEMA's Bulletin 467–1 Guidance for Elevation Certificates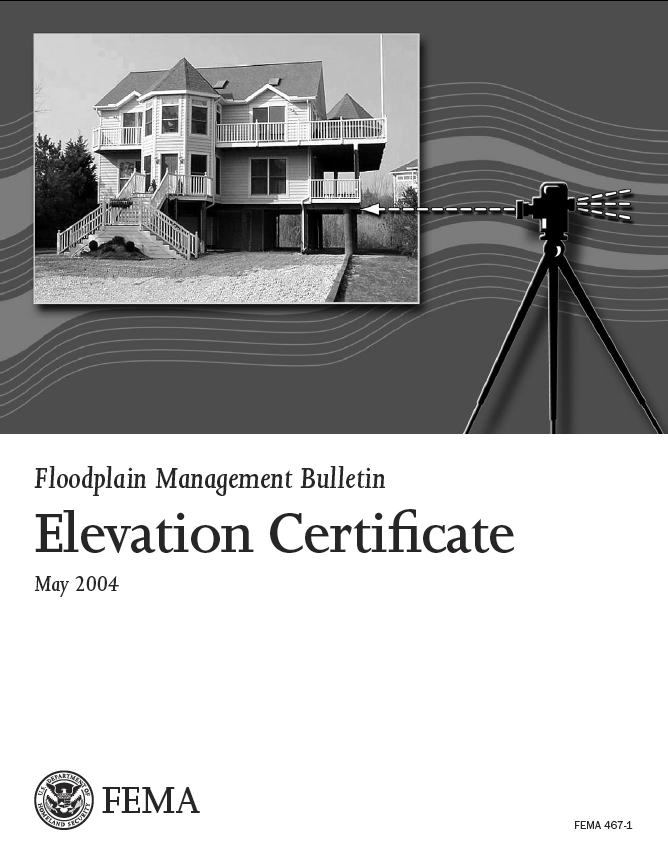 Although written in 2004 to assist in completion of the version that is now outdated, a useful publication explaining the use and proper completion of the Elevation Certificate is FEMA's Floodplain Manangement Bulletin 467-1. Because it has not yet been updated to reflect reorganization of material in the Elevation Certificate, please note that references to particular lines may not be appropriate for the current form, and the two diagrams introdeced in 2010 are not included. However, the "how to" information regarding content is valuable. If you have Adobe Acrobat Reader, Bulletin 467-1 may also be downloaded here. (PDF file, 640 KB)
---
FEMA's Technical Bulletins
Over the years, FEMA has issued eleven Technical Bulletins to clarify various land development and construction aspects of the National Flood Insurance Program. Whether seeking acceptable floodplain development techniques or looking for guidance relating to completion of the Elevation Certificate, the Technical Bulletins address a number of questions. The list of Technical Bulletins below can all be downloaded as PDF files from FEMA's website, which can be accessed by clicking here.

Guide–01 User's Guide to Technical Bulletins
TB 1–2008 Openings in Foundation Walls
TB 2–2008 Flood–Resistant Materials Requirements
TB 3–93 Non–Residential Floodproofing – Requirements and Certification
TB 4–2010 Elevator Installation
TB 5–2008 Free–of–Obstruction Requirements
TB 6–93 Below–Grade Parking Requirements
TB 7–93 Wet Floodproofing Requirements
TB 8–96 Corrosion Protection for Metal Connectors in Coastal Areas
TB 9–99 Design and Construction Guidance for Breakaway Walls Below Elevated Coastal Buildings
TB 10–01 Ensuring that Structures Built on Fill In or Near Special Flood Hazard Areas are Reasonably Safe From Flooding
TB 11–01 Crawlspace Construction for Buildings Located in Special Flood Hazard Areas
---
Training and Seminars in Floodplain Management

Cadastral Consulting offers seminars, in–house training, and consulting services in floodplain management. Please follow the links below for descriptions of present educational offerings. We are can also provide customized services in helping your staff or organization meet its needs.

Additional training is available through GeoLearn's online training, through the Emergency Managment Institute at the National Emergency Training Center on site in Emmitsburg, Maryland and through the Association of State Flood Plain Managers at its national and regional events.

---

Some of the files on this page require a plug-in to view them. Links to the plug-ins are available below.