National Flood Insurance Program and Floodplain Management Resources
---
FEMA is revamping the way it assesses flood insurance premiums through what it is calling Risk Rating 2.0. This approach is meant to provide a more fair and more site-specific approach to setting premiums, and changes some of the variables. While the Elevation Certificate may not be required for flood insurance rating under Risk Rating 2.0, the form still provides important information above and beyond the datasets in the new software utilized by insurance agents. Risk Rating 2.0 began being phased in on October 1, 2021, starting with all new policies, and as of April 1, 2022 it will be effective for all policies.
Of course, Elevation Certificates remain a vital part of local floodplain management as a tool for tracking lowest floor elevations and permit processes, as well as for submitting information when applying for Letters of Map Amendment and Letters of Map Revision Based on Fill.
FEMA has initiated a program called Building Resilient Infrastructure and COmmunities, shortened to BRIC, to help communities, states, tribes and territories undertake mitigation projects. Information on funding and technical assistance is available on the FEMA website here.
---
Floodplain Management News and Links
FEMA periodically revises forms for map change applications. Click below for links to the most current forms.

FEMA has recently redesigned its website again. For the links most frequently used by surveyors, engineers, and architects (including forms and documents), the new site can be accessed here.

FEMA's Map Service Center provides historical flood maps as well as the most current versions. Letters of Map Change are available through the same pages as the currently effective maps, listed by community. Flood Insurance Study rerports, where available, are accessed through the home page tab for "Product Catalog", along with DFIRM databases and Community Status books.
FEMA's contact center for the Map Service Center (MSC) has been consolidated with the FEMA Map Assistance Center (FMAC). The phone number for MSC is 1–877–FEMA MAP (1–877–336–2627). To reflect the consolidation of the contact centers the name of the expanded FEMA Map Assistance Center is now the FEMA Map Information eXchange, or FMIX.
Note that FEMA no longer issues paper maps (effective October 1, 2009) beyond a single set to participating NFIP communities. All map users must now be familiar with FEMA's on–line Map Service Center for ordering and viewing digital mapping data.

FEMA offers On Line Tutorials on a variety of technical and regulatory topics.

FEMA's Glossary provides definitions of words and phrases relating to floodplain management. Other resources are the NFIP Terminology Index and the FloodSmart Glossary/
---

Please see our classes and training on use of the Elevation Certificate and other floodplain management topics.



FEMA's Bulletin 467–1 Guidance for Elevation Certificates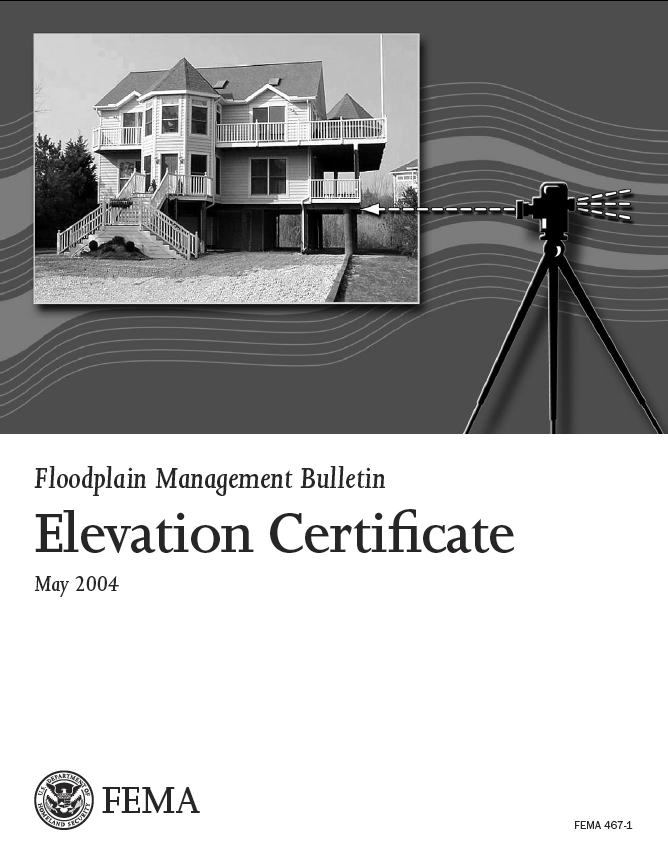 Although written in 2004 to assist in completion of the version that is now outdated, a useful publication explaining the use and proper completion of the Elevation Certificate is FEMA's Floodplain Manangement Bulletin 467-1. Because it has never been updated to reflect reorganization of material in the Elevation Certificate, please note that references to particular lines may not be appropriate for the current form, and the two diagrams introdeced in 2010 are not included. However, the "how to" information regarding content is valuable. Bulletin 467-1 can be downloaded here. (PDF file, 640 KB)
---
FEMA's Technical Bulletins
Over the years, FEMA has issued eleven Technical Bulletins to clarify various land development and construction aspects of the National Flood Insurance Program. Whether seeking acceptable floodplain development techniques or looking for guidance relating to completion of the Elevation Certificate, the Technical Bulletins address a number of questions. The Technical Bulletins listed below can all be downloaded as PDF files from FEMA's website, which can be accessed by clicking here. Note that these documents are periodically updated, so check if a copy you may already have is still the most recent version

Guide–01 User's Guide to Technical Bulletins
TB 1 Openings in Foundation Walls
TB 2 Flood–Resistant Materials Requirements
TB 3 Non–Residential Floodproofing – Requirements and Certification
TB 4 Elevator Installation
TB 5 Free–of–Obstruction Requirements
TB 6 Below–Grade Parking Requirements
TB 7 Wet Floodproofing Requirements
TB 8 Corrosion Protection for Metal Connectors in Coastal Areas
TB 9 Design and Construction Guidance for Breakaway Walls Below Elevated Coastal Buildings
TB 10 Ensuring that Structures Built on Fill In or Near Special Flood Hazard Areas are Reasonably Safe From Flooding
TB 11 Crawlspace Construction for Buildings Located in Special Flood Hazard Areas
---
Training and Seminars in Floodplain Management

Cadastral Consulting offers seminars, in–house training, and consulting services in floodplain management. Please follow the links below for descriptions of present educational offerings. We are can also provide customized services in helping your staff or organization meet its needs.

Additional training is available through GeoLearn's online training, through the Emergency Managment Institute at the National Emergency Training Center on site in Emmitsburg, Maryland and through the Association of State Flood Plain Managers at its national and regional events.

---

Some of the files on this page require a plug-in to view them. Links to the plug-ins are available below.